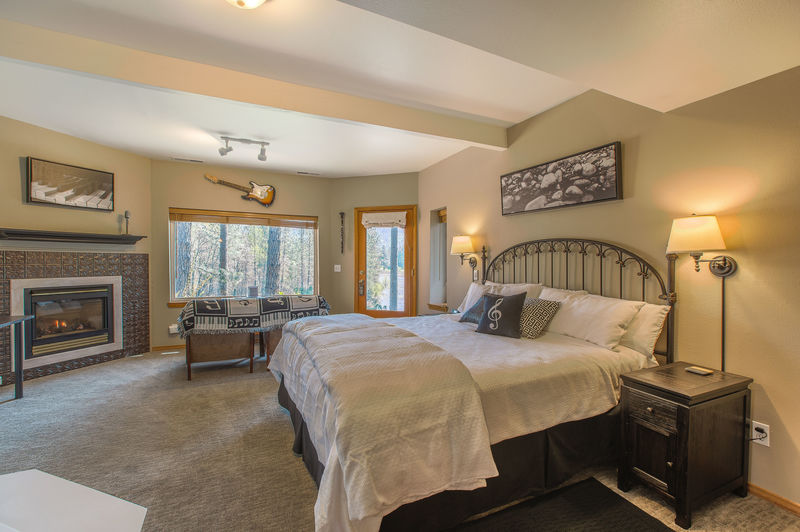 VIEW GALLERY
The Tennessee Suite - All Seasons River Inn
Longing for some great down-south comfort? All Seasons River Inn brings an inspiring, innovative new idea in the vacation rental experience that you're sure to love!
The inn, overlooking the Wenatchee River, features seven very beautifully and uniquely designed suites that can be booked individually, or together as a block. Each suite is named after a well-known river, and follows the theme of that location in its design and decor.
The Tennessee Suite is designed with a playful Memphis Blues music theme that reflects the birthplace of multiple musical genres. A private en suite jacuzzi is a wonderful feature of the Tennessee– a perfect way to end a day of hiking or river sports! Comfortable and cozy seating set by the corner fireplace is a perfect way to relax, in view of the stunning river and wooded area right outside the window.
The Tennessee suite has a lovely private outdoor sitting area where you can enjoy the flow of the beautiful Wenatchee. You just won't believe the incredible river view from both the window of this suite, and from the outdoor patio. Wildlife– from deer to eagles– can frequently be seen from this amazing place. The setting is one of the most restful, relaxing places you can imagine!
Designed primarily for couples' getaways, the suite has a refreshment bar that features a mini-refrigerator, a microwave, and a Keurig coffeemaker for the guests' convenience. Of course, the inn itself is located only a mile from downtown where there is a plethora of shops, fine dining, and many restaurant options.
Reflecting the outstanding river recreation this area affords, the Tennessee suite is a great, affordable stay for weekend skiers, hikers, golfers, recreation enthusiasts. It's also perfect for couples who want a great place to stay when they come to see the town's outstanding festivals or shows, or for those in need of a quiet, cozy, highly attractive vacation spot with a fabulous river view!

Looking for a larger space? You can now rent the whole inn for your wedding party, family or corporate retreat. The Inn sleeps 20 and offers the best private river experience around! Also ask about the Inn's sister property, nearby White Water Lodge https://www.destinationleavenworth.com/white-water-lodge, which can add even more accommodation and event space.