Oktoberfest Markt 2021
2021 Leavenworth Oktoberfest Markt Is Almost Here!!!
Mark your calendars we are officially one week away from Oktoberfest Markt!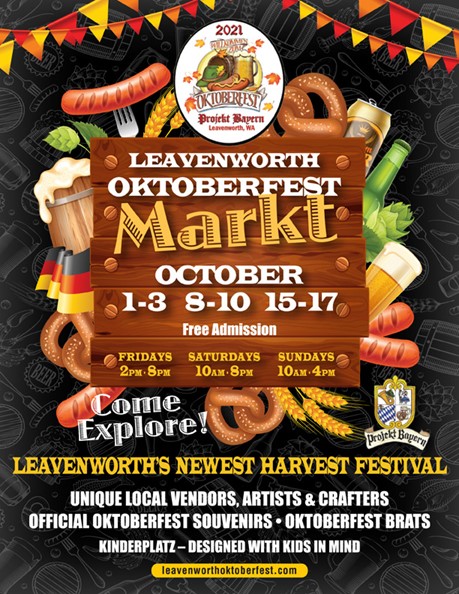 This year, Projekt Bayern is organizing Oktoberfest Markt for the first three weekends in October. "With so many small businesses and artisans struggling over the last year and a half we thought we could give them a hand up and promote more of a Harvest Festival this year." Said Steve Lord, Oktoberfest Chairman. While the normal Oktoberfest was cancelled in March, the plan for this year, is to host 100 unique local vendors, artists, and crafter for the first 3 weekends in October.
All your favorite Oktoberfest food and Oktoberfest souvenirs will be there, food and vendor booths will be placed in the normal foot print. In addition to vendor booths, there will also be a special area designed with kids in mind, "kinderplatz".
With families and our village locals in mind, this event is more of a family gathering, there will be no scheduled entertainment, shuttles or beer. Several restaurants have live music in the evenings, and your favorite breweries and wine tasting rooms are open. At this time, Leavenworth currently does not require proof of vaccination nor a negative COVID test to enjoy our many delicious restaurants and bars. We recommend making reservations well in advance, to ensure you can enjoy Leavenworth's finest fare and libations. The Washington statewide mask mandate is still in effect.
We have just a couple of homes available for all the fun fall festivities! River Heights Home is a gorgeous home set in a pear orchard, perched on a bluff over the Wenatchee River that provides sweeping views of the mountain vistas. Watching sunsets from this home is incredible, the private hot tub is set on the view side, we highly recommend enjoying the view with some of your favorite guests and wine!
Edgewater Lodge is on the river across from downtown, with unobstructed views of the lights and festivities of the village. It has three separate "pods" including a private, cozy master suite with a romantic fireplace to relax after a long day of Oktoberfest fun! There is also a bunkhouse for the family to enjoy and of course, the hot tub is ready and waiting!! We highly recommend reading a book up in the loft space on a fall day with a hot cup of cider!
Let us be your basecamp for all your favorite Leavenworth Fall experiences! Fall is officially HERE!